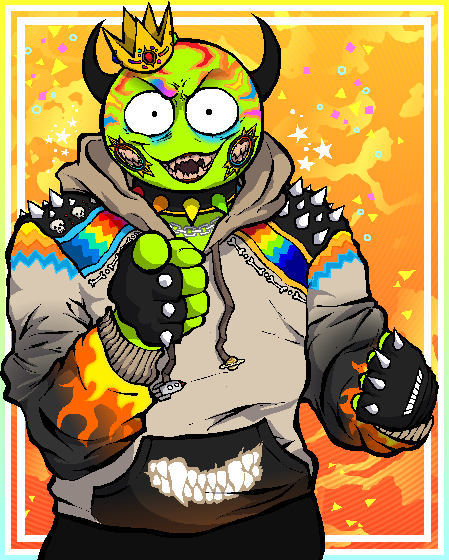 about




SOCIALS - SPACEHEY | YOUTUBE | DEVIANTART | TWITTER | INSTAGRAM | TUMBLR (MAIN) / (PROJECTS ONLY) | FLIGHT RISING | GOATLINGS
The name's Max. I primarily use they/xe/he, but any pronouns are fine. One of my lifelong interests is worldbuilding and storytelling, especially for speculative fiction and sci-fi. I draw, write, compose music, and develop games & conlangs. I dabble sometimes in Python to make simple tools for myself. I have more ideas than I know what to do with, so this site is dedicated to documenting & presenting my various projects.
I'm in college for information science, so I have a keen interest in making my documentation as thorough and organized as I can, but I'm always learning. I am also interested in ontology and metaphysics, which influences a lot of my recent work. Having a strong philosophical and functional foundation for my universes is very important to me.
I am aroace (aromantic asexual), neurodivergent, trans, and voidpunk. Many of my creations are inherently centered in these things in some way, and I have a lot of opinions about their under-representation in media. I write what I want to see so that others may also feel seen. I especially focus on social relationship systems and dynamics that do not exist within the constraints of the platonic-romantic binary. All of my characters are aroace by default unless developed explicitly to be otherwise, but may have further diversity in areas this label does not encompass.
I compulsively write verbose notes for all my projects as my main method of developing them. It is also a major coping mechanism for me from various life stresses. I've spent a lot of my recent years trying to bring order to all the chaos, both for myself and to turn it into something that's presentable to the rest of the world. Some of my first and formative social internet experiences were as an active contributor to fan content wikis on Wikia.com, so I have always been interested in public wiki-like documentation as a mechanism of presenting my ideas.
Depicted here are various renditions of my persona, drawn by me. They have several interchangeable designs and evolve on a whim every time I draw them. Their species is "some kind of weird day gecko".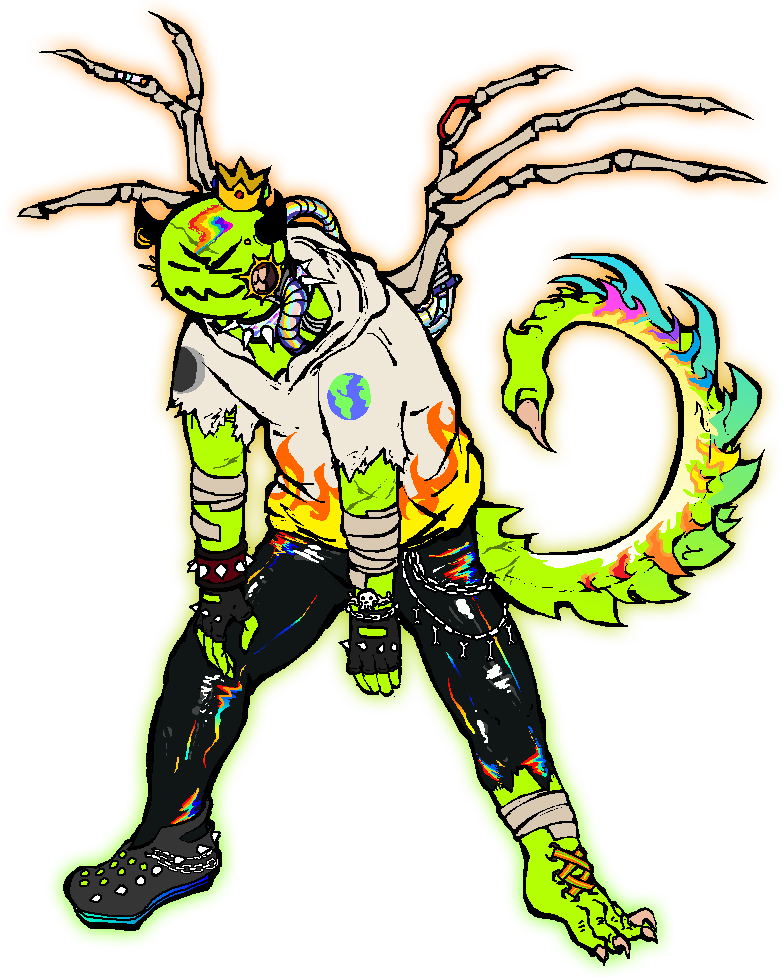 projects
- A speculative alternate universe where anomalous entities known as cryptids score the cosmos, including Earth. Focused on metaphysics, decentralized narratives, and creature design.

Year started: 2019
Approx. wordcount of all notes: 277,000



- A hard-ish science-fiction series about a human and his camraderie of futuristic friends getting by on an alien, but inviting, world in a small desert town. Focused on characters, worldbuilding, and slice-of-life adventures. Will be an animated web series some time in the indefinite future.

Year started: 2014
Approx. wordcount of all notes: 1,340,000
music
Igorrr
C418
Death Grips
Alias Conrad Coldwood
Pilotredsun / Bittertooth
Nero's Day at Disneyland / Lauren Bousfield
Skinny Puppy
The Black Dog
Autechre
Amon Tobin
Osamu Sato
Gridlock
Download
Chipzel
Toby Fox
Nine Inch Nails
Rinse and Repeat
Machine Girl
Aphex Twin
Synthamesk
Steinvord
Justice
Gojira
System of a Down
Cyriak
Com Truise
Lemon Demon
Infected Mushroom
Pendulum
Philip Glass
Ryoji Ikeda
Mastodon

Favorite songs of all time:
List may change because I have so many favorites it's hard to pick just a few.
Songs I'm looping lately:
I'm relatively new to HTML and CSS, so this stuff might change a lot in the future as I get the hang of things. My ADHD ass is also very desperately bored and understimulated most of the time, and I'm always looking for fellow storytellers to talk to, so message me anytime on any of my socials if you wanna chat. :] Ask there if you want my Discord tag.